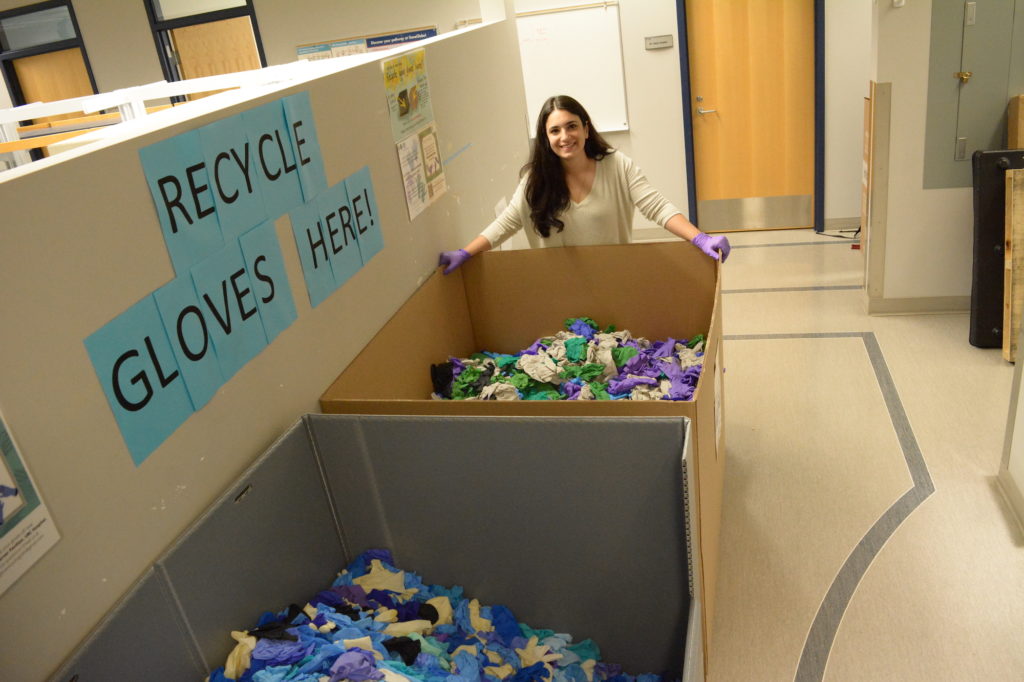 A UBC student's project to combat plastic waste has collected roughly 48,700 gloves, diverting 146.1 kilograms of waste from landfills this year.
Melody Salehzadeh, a doctoral student in the Department of Zoology, first noticed just how much plastic waste her work created during the COVID-19 pandemic. Due to restrictions, custodial staff weren't able to enter her lab in the Djavad Mowafaghian Centre for Brain Health (DMCBH) as frequently as usual. Single-use nitrile and latex gloves were piling up in the rubbish.
"I knew it was possible to recycle the gloves, it was just a matter of someone putting in the effort," says Salehzadeh.
Last September, Salehzadeh and her team of seven received funding to buy two giant pallets for collecting the gloves from the AMS Sustainability Project and the UBC Student Environment Centre. The team launched a competition in October to encourage other labs to take part in the initiative and see who could collect the most gloves. With 17 labs taking part, the winning Ciernia lab collected 19 kilograms of gloves.
The gloves are recycled into plastic pellets used for building and construction supplies. Some may even see life again as lawn furniture or plastic planters through the Kimberly-Clark program. No biohazardous gloves are collected.
Gloves will continue to be collected until the pallets are full and ready to be shipped, likely in December. The initiative will continue indefinitely thanks to ongoing funding by DMCBH.
Please visit the UBC News website to read the full story.
Through Strategy 3: Thriving Communities, UBC is advancing sustainability and wellbeing through renewal and innovation in our learning environments, operations and infrastructure.