It started, like many great things do, with a simple conversation. Dr. Corey Nislow and Jamal Kurtu were talking one day in 2018 about public health – in particular, capacity building for genetic research around the world. "I have molecular biology experience and Jamal has a long history with Ethiopia," says Dr. Nislow, professor at UBC's Faculty of Pharmaceutical Sciences. "It was just us talking about what could we do, as two people who have passion and interest." That was when Mr. Kurtu, Pharmaceutical Sciences' Director of Operations & Facilities Management, mentioned he was preparing to visit family in Ethiopia. "We thought, rather than talking about it, we should see what we could do."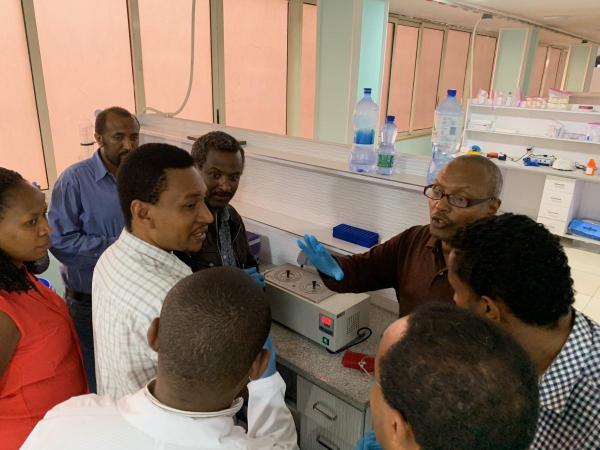 Dr. Nislow and Mr. Kurtu joined Dr. Robert Sindelar, Pharmaceutical Sciences professor and Dean Emeritus, to develop a proposal for what would become the Ethiopian Translational Health Innovation project (ETH-I). One of the goals is to correct the imbalance in the current state of genomics research, the foundation of which is the Human Genome Project. The other aim – perhaps just as crucial – is to train African researchers to do their own sample-gathering and genomic analysis. Scientific research in Africa has historically involved experts from other continents arriving uninvited, conducting studies with questionable consent processes and departing with the data, Dr. Nislow explains. He and his peers designed The ETH-I initiative to take a different approach: to empower innovation in healthcare and wellness in African universities by developing local capacity, driven by stakeholders.
"If this was going to work, it was going to be by Ethiopians, for Ethiopians," says Dr. Nislow.
Please visit the Vice-Provost International website to read the full story.
Through Strategy 19: Global Networks, UBC is prioritizing and supporting collaborations that benefit the world and our partners — as well as creating value at UBC — and fostering new alliances in areas of shared, strategic importance.